Hoke County Partnership for Children and Families
Mission: The Partnership believes in helping children and families by providing a foundation to develop self-assurance for life through education and resources.

Vision: Expanding opportunities that inspire young minds to provide a higher quality of life for our community's future.
Come see us at 1089 E. Central Avenue, Raeford, NC 28376. Call (910) 904-5452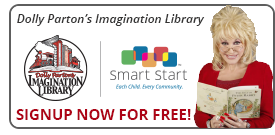 Annual Report 2016-2017 [PDF]
Expenditures for Fiscal Year 2016-2017 [Excel Spreadsheet]
Request for Proposals
Hoke County Partnership for Children and Families 1089 E. Central Ave. Raeford, NC 28376

Fiscal Year 2018-2019
The Partnership is currently accepting proposals for projects that address the goals of the statewide Smart Start initiative. These proposals must address the birth to five-year old population in Hoke County. Agencies wishing to submit bids must have a demonstrated record of success and at least 3 years of service delivery experience as well as a strong system for fiscal and programmatic accountability. Financial and insurance documentation will be requested prior to contract execution if proposal is selected and approved. Proposals must be submitted with an expected duration of up to one year from July 1, 2018 to June 30, 2019.
Proposals are being sought for the following activity areas:
Family Support
Child Care Related
Children's Health Activities
Early Childhood Education
Evaluation
Deadline for submission of proposals is February 9, 2018 at 5:00 pm, at the Partnership office. No faxed copies accepted. Proposal and budget outlines are available on our website at: www.hokechildren.net ALL APPROVED PROPOSALS ARE SUBJECT TO FUTURE FUNDING.


All rights reserved.